After graduate school, Horton-Trippe moved to Paris to study video with Nam June Paik, and exhibited in the first International Women in the Arts exhibition at UNESCO. Then, in 1978, she settled in New Mexico to continue her interdisciplinary practice.
In 1981, she founded the Children's Art Studio School in Santa Fe, New Mexico; the first children's art program affiliated with the Museum of New Mexico and received her first National Endowment for the Arts Grant.
In 1983 she participated in the exhibition, Artists Contemporains Du Sud Ouest De Amerique Du Nord at the Salon d'Automne, Paris and began a long alliance with European artists, poets and collaborators.
Horton-Trippe began teaching a combination of studio art and activism in the early 1990's while at the Institute of American Indian Art and the College of Santa Fe. There, she developed the program, Intercultural Media Forum and was awarded 3 National Endowment for the Arts Grants for curating and collaborating with Jenny Holzer, Edgar Heap-of-Birds, Luis Jimenez and Bruce Nauman. She went on to receive another NEA and grants from Artslink International, The Witter Bynner Foundation for Poetry, the New Mexico Women's Foundation and 5 New Mexico Arts Grants to work with Poets, Women and Children and Indigenous and Hispanic communities in high mountain rural Northern New Mexico.
Rooted in a love of paint, the art of Shelley Horton-Trippe is most allied with the interdisciplinary workings of the Feminist movement of the 1970's and a notion that the medium is the metaphor. Whether she is working in paint or paper or installations using damask or oscillating fans or video projections on tin roofs or adobe walls, her work is most often reexamining history to expose it's otherness. Questioning the dominant motive is at the root of the inquiry and exploring the innate duality of existence: rich/poor, dark/light, Woman/man remains at the core.
Horton-Trippe has received Artist's Residencies at the Brantwood Museum/John Ruskin's home in the Lake District, UK, De Marco European Art Foundation, Edinburgh, Scotland, Tagar Gap Art Institute, Malta, The Harwood Museum, Taos, NM and a working circus.
She is exhibited both nationally and internationally in galleries and museums and her work has been included in the Venice Biennale, the Edinburgh Fringe Festival, and the SITE Santa Fe Biennial. Her work is in the collections of The Museum of Fine Art, Malta, The Maltese Maritime Museum, Stanley Picker Gallery Kingston University, UK, The Amarillo Museum of Art, Museum of New Mexico, University of Oklahoma, The Tennessee Museum of Art, The State Art collections of New Mexico and Oklahoma, De Marco European Art Foundation, Edinburgh, Scotland, IBM, AT&T and the private collections of Marcia Weisman, Fitz Scholder, Beaumont Newhall and William Burrows.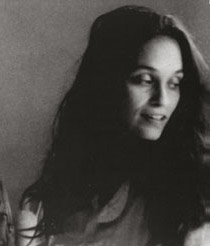 Shelley Horton-Trippe, Lamy, New Mexico, 1978.