Carbon
by Diane Armitage
The paintings in Shelley Horton-Trippe's recent show Carbon are the best of her career. The emotional authority they possess is so direct, damning, and volcanic that the viewer can only step back in amazed silence and let the artist's sense of truth pour down in waves of metaphorical light, sweet crude.
It is as if these mostly black paintings, with their patches and particles of heart-grabbing, ravishing color, were conceived and executed in a series of convulsive, life-and-death struggles. And for all intents and purposes, they were. If in this work Horton-Trippe plays the role of the mythic Cassandra—delivering her apocalyptic visions of political strategies gone awry, greed blazing out of control, equivocation going down our gullets in a daily sacrament of selfishness and cynicism—Cassandra does not back down as she embraces her terribilità, the fierce beauty of her visions wed to their terrible truths.
Blackness too has its subtleties, its luminosity, and Horton-Trippe textures her pitch black, gives it inflections that make her dense atmospheres especially moving and piercing. In contrast to these dark surfaces, the artist has sketched oilrigs, for example, with their tops bursting into flames. The rigs look like a child could have drawn them, but they are perfect in their impact— signifiers that are anything but empty.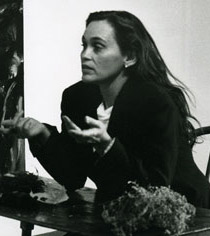 Shelley Horton-Trippe, performance from the Poem Paintings, 1991.
It isn't just Horton-Trippe's searing and insightful use of paint, however, that makes these paintings in her "carbon cycle" so riveting. It is also the way she has integrated pieces of fabric into the surfaces. In the painting Carbon, there is a collaged piece of material on the left with a pattern of pastel flowers, in the middle is the crumpled cloth of a small bean bag, and on the right, part of a man's sport jacket lining in black silk—all that remains of the lining is an upside-down inner breast pocket with an elegant label embroidered in gold thread that reads, "made to order." So many things are implied in this work—the explosion of reason, the death of civilization, the fiery conflagration of the progress of love. The made-to-order war in Iraq, with its legacy of blood, ashes, body parts, and occluded light, is just the beginning of Horton-Trippe's multi-textual themes.
In her video Dictionary, featuring the artist, Horton-Trippe parses the meaning of the word "solipsism" as her hand passes a magnifying glass across a dictionary page. The definition of the word is that "the self can be aware of nothing but its own experiences and states." After establishing the meaning of solipsism, the artist begins to cry in the video and as it ends, only the neck of the artist is visible in an intense close up. Head thrown back, Horton-Trippe's neck becomes a heaving landscape of throttled emotion and impacted longing. There is nothing wasted, no false step, nothing trite or glib or slick in the transition between the Carbonpaintings and the artist's long day's journey into night.
Landscape as Idea
by Suzanne Deats from the book, New Mexico Landscape, 2006; Fresco Publications, Albuquerque, NM
One sees a landscape with all five senses, but one views a painting with the sense of vision alone. It is Shelley Horton-Trippe's singular talent to be able to create a painting that conveys all the aspects of the land—the sound of tumbling water, the smell of the pines, the taste of the wind, and the warmth of the sun—in a way that even a sightless person might experience it. Her canvases are filled with emotions born of memory and empathy.
Horton-Trippe is so highly skilled that she is able to concentrate on feeling and take care of formal concerns on a subliminal level. Her work is entirely abstract, yet is landscape-based. "I paint a specific place, at a certain time of day, in an exact season of a particular year," says the artist. "It's so much about the moment when you're remembering a situation. Maybe you want to capture it because you would like for it to last forever, yet you know it's going to pass very quickly. There's a sense of knowing that the sublime is so fleeting, and because of that there's an underlying melancholy."
Horton-Trippe's childhood friend and longtime dealer, Carson See, is quick to point out that the somewhat sorrowful nuances evident in her darker images give the brighter ones more weight, and are crucial to an understanding of her entire body of art. "I have known her work all our lives," he says, "and I have followed her happiness and her sadness. Her work is sexy and it is real because of the radiance of her spirit. She is not influenced by other postmodern artists, or by the market, or by current trends in art. She is utterly true to herself."
Horton-Trippe has been a longtime presence in New Mexico, even though she has spent time intermittently in other places. She was living and working in Santa Fe during the heady days of the eighties, when the art scene burst forth exuberantly at a grassroots level. She was a full participant in the creative ferment that marked the era. In the years since, she has painted nonstop, taught college courses, and exhibited in the United States and abroad.
Throughout her career, she has continued to explore her deep ties to northern New Mexico. Her paintings are as strong and as moody as the landscape itself. Their color fields and intuitive lines may suggest skies or cliffs, or may echo the curve of a waterfall. A vertical cluster might be a forest; a bold circle is unmistakably the sun.
Horton-Trippe has immersed herself in the lore that brings the land to life. She speaks of a certain spot where the tumbling Rio Embudo empties into the Rio Grande. The local legend says that if you stand in the water there, you will find the love of your life within a year. She smiles and says, "I haven't gone there yet."