Shelley Horton Trippe earned her MFA from the University of Oklahoma, studied ceramics with Peter Voulkos at the University of Montana's Graduate Thesis Seminar and went on to study video with Nam June Paik in Paris before moving to Santa Fe in 1979.
In 1984 she exhibited work in ARTISTS CONTEMPARAINS DU SUD OUST DE L'AMERIQUE DU NORD at the Salon d'Autmne, Grand Palais in Paris, with Fritz Scholder; Edinburgh's Fringe Festival in1999, with De Marco European Art Foundation at the 2001 Venice Bienale and gallery and museum exhibitions throughout the U.S.
She has received numerous grants – 4 National Endowment for the Arts, Witter Bynner Poetry Foundation Grant, 2 McCune Foundation Grants, Artlink International Grant, 4 New Mexico Arts Grants and artists residencies in Malta, John Ruskin's Brantwood in England's Lake District, and the Harwood Museum in Taos, NM.
Her work is in the collections of IBM, AT&T, Sempe Armangac, RadioShack, New Mexico Museum of Art, New Mexico State Art Collection, Amarillo Museum of Art, Fred Jones Museum of Art, Katie and Gerald Peters Collection, Beaumont Newhall Collection, Fritz and Romona Scholder Collection, Marcia Wiesman Collection and Hotel ZaZa.
Shelley Horton Trippe's work has been included in major publications such as Santa Fe Art by Simone Ellis, Random House and Landscapes of New Mexico; Paintings of the Land of Enchantment, Campbell/Deats, in 2006.
She lives and works in her studio outside of Santa Fe, New Mexico.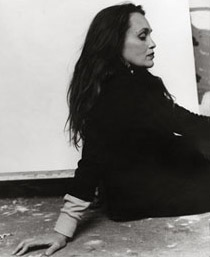 Shelley Horton-Trippe, Santa Fe Studio; photo by Kitty Leaken, 1993.